Overview
Genshin Impact is a game that has recently taken the world by storm. Reaching a billion dollars in revenue within just six months of release, it is one of the fastest grossing mobile games. Made by miHoYo, a Chinese videogame developer based in Shanghai, Genshin Impact is an open-world RPG (role-play game) starring the Traveller, who comes to the world of Teyvat with their sibling to explore the world but gets trapped by an Unkown God who wants to "stop the arrogation of mankind". When I started playing this game in late October, I was amazed by the sheer beauty and depth of the game. The lore and stories of this world run deep. There are numerous stories of NPCs (Non-Player Characters), artifacts and books which makes the world of Teyvat this incredibly fleshed-out world that you want to live in!
Landscapes and Design
So first off, let's talk about the sceneries and landscaping in Genshin Impact. The bright colours of the trees and rivers, the houses and monuments and even the sky all blend so seamlessly that it is astounding.
The first time you visit Liyue, you enter an area called Dihua Marsh.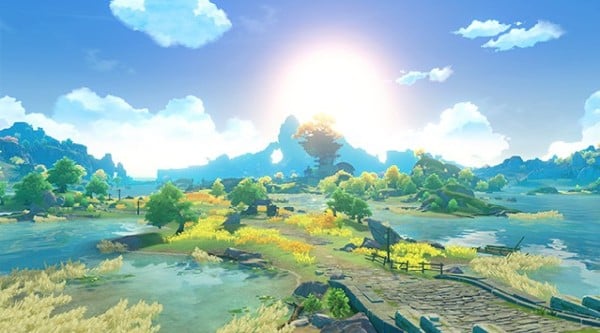 The first time you visit Liyue, you enter an area called Dihua Marsh (the second image above). You enter from a small and narrow road which opens up to a grand and huge space. The site of the marsh left me speechless the first time I saw it, compelling me to take a picture. Each region in Genshin Impact is styled after a specific country in the real world, Mondstadt after medieval Europe/Germany and Liyue after ancient China. Even the future regions are designed in a way to reflect real-world places. The stunning graphics, compiled with the beautiful sceneries, are a sight to behold. They are practically as good as the landscapes we see in real life. (If your device can handle the graphics well of course.) It has elements of both a mobile and a PC game. The Resin system is a prime example of a typical mobile game. The Resin system enables you to collect rewards necessary for upgrading your characters, from special stages called "Domains". It also has a maximum capacity, therefore limiting the number of domains one can clear in a day. The gameplay of Genshin Impact is good and the plot? Even better.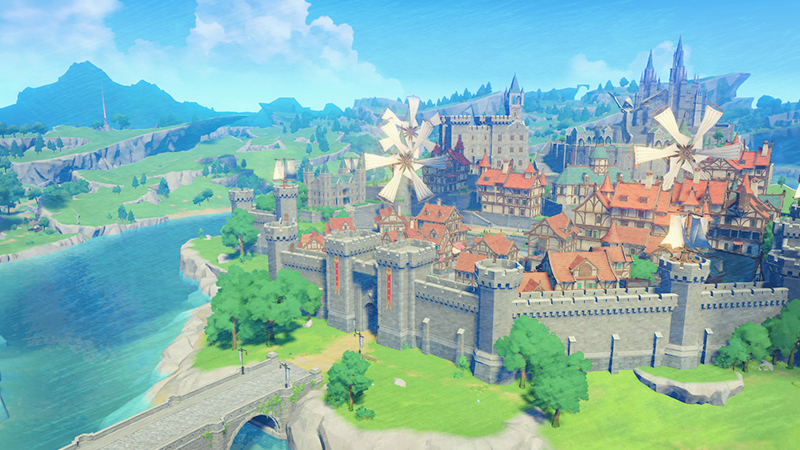 Characters
 The characters of Genshin Impact are all very unique, both in design as well as play-style. From the way, each one talks to the way they dress. Even their personalities! The well-designed characters, gameplay, music and overall feel of the game are outstanding, especially considering the fact that it is a free game. Each character offers fresh and engaging gameplay, each with mechanics and charms of their own, not to mention the beautiful theme song that each character has. GI has lovable characters.
Music
When it comes to music in GI, miHoYo never disappoints. My personal favourite is definitely the new boss theme, Azdaha Battle Theme. In the cities of Mondstadt and Liyue, the music is lively and showcases the charms of the cities, while in isolated areas, like the Stormbearer Mountains or Jueyun Karst, the music tends to be very serene and tranquil. The music is what really immerses one into the world of Teyvat. The music in the Mondstadt region is based heavily on medieval European music and folk music. It uses a few elements of Nordic music as well (in my opinion). The scene changes once you enter Liyue, and so does the soundtrack. It switches to a more traditional Chinese type of music and uses oriental and a lot of traditional Chinese ones. Gentle, sad, nostalgic, powerful, happy or cheerful, whatever your heart feels, I'm sure that at least one of the tracks in GI can resonate with you. I'm looking forward to what new tracks GI brings to the table with each upcoming region. I'd definitely recommend listening to some of these wonderful tracks while working as they help you focus a lot!
Problems of Genshin Impact 
It goes without saying that every good game has its fair share of drawbacks, and Genshin Impact is no exception. Now the main problem with Genshin Impact is the drop rates in the gacha system. The gacha system is like a raffle. After a certain number of tries, you are guaranteed to get a 5-star item. In Genshin Impact, after about 80-90 pulls on a certain banner (limited time events from which items or characters can be obtained), you are guaranteed to get a 5-star item. The problem is that for free-to-play players, this starts getting a little taxing as they have to grind the game a lot to get gacha currency (Primogems in Genshin) and spend/save for several months before they can get a 5-star. The thing is that you can get a 5-star even before the pity ever hits, and the system gives you a 5-star. But it might also work against you by not giving you many 5-stars. For those unfamiliar with this wacky system, it means that whether or not you get a 5-star depends solely on your luck. The low drop rates in GI (0.6%) are a huge problem a lot of the time.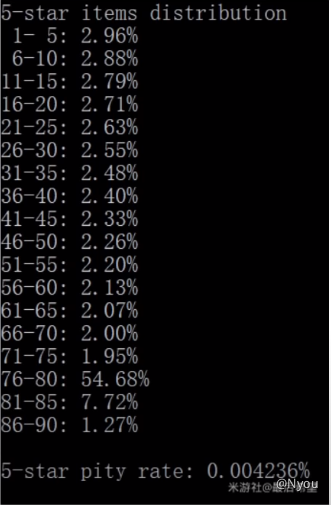 The second big problem in GI is the lack of content for long-time players. Those who have been playing the game since release, have by now burnt through all the story quests, side quests and have done probably every possible thing you can do in GI as of now. So after a certain point, players have been hitting a huge block, a wall of sorts. And that wall will keep standing till newer content comes out. Thankfully though, miHoYo has a pretty good schedule of releasing new updates every 2 months or so, with small events in between to keep players occupied. Although the events aren't much, they do manage to keep the interest of the player base. And just when everyone is getting bored, a new update pops in, usually spread out over the course of a month. 
The third main problem for people who spend a lot of time in GI is the aforementioned 'Resin' system. Since it limits the amount of 'Domains' you can clear in a day, there isn't much to do after finishing the daily tasks and Resin. (There are ways to replenish Resin with either 'Fragile Resin', which gives you more Resin, or with the gacha currency called Primogems, but that's a whole another discussion).
In conclusion, Genshin Impact is definitely one of the best games that have come out in the last year. With stunning graphics, unique character mechanics, fabulous music, great characters and a marvellous plotline, Genshin Impact truly is a wonderful game. Just remember not to try to speedrun the game and go slow. Take your time to go through the story and quests and your own sweet time to appreciate the beauty of the game.